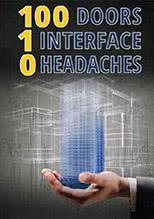 SDC's IP Pro™ IP-based Single Door Access Controller – nowavailable with PLUS PC Client Software - allows expansion from one Standalone door up to a 100-door "Grid." Configure and manage every door from a single, flexible interface system that grows with you and eliminates all the headaches of costlier, more complicated enterprise solutions. Finally, IP door security is in your hands.
Every IP Pro Controller comes with secure, built-in software to allow you door access management from any standard web browser. Or,
download our FREE PLUS PC-Client software
to provide control from a single PC.
The choice is yours.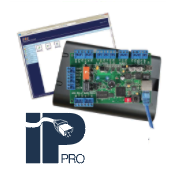 IP Pro™

Designed for ease of use, the IP Pro embedded, browser-based software allows for real-time monitoring, user management and audit trail up to 5,000 events for managing door access control via LAN or internet connected device up to 32 doors.
Single Door IP Controller expandable up to 32 doors
Powered by ordinary Ethernet network cables – no more pulling costly power lines
Secure, built-in browser-based software, no software to install

Manage from any PC and standard web browser

Connects to existing network infrastructure

Compatible with standard Weigand readers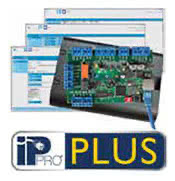 IP Pro™ Plus
Our new PLUS PC-Client software is available as a
free download
to provide door access control for up to 100 doors from a single PC. PLUS is a role-based access control software suite with different interface modules, depending on user type.
PLUS Hardware is used by the installer to set up controllers, doors and user profiles

PLUS Manage –is used by system administrators to facilitate database changes required on a day-to-day basis, and offers various reporting tools.

PLUS Server is used by system administrators to perform specialized tasks, such as database backups, firmware updates, importing/exporting users
Live System events can be monitored from either module