Auto EntryControl™ Series
Low Energy Swing Door Operators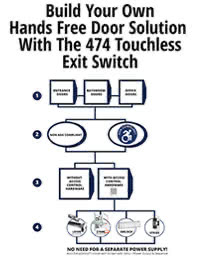 SDC's Auto Entry-Control™ Low Energy Swing Door Operator offers true Plug N Play Access Control System Installation. It features an internal, 1.0 Amp+ Accessory/Lock Power Supply to allow for integration with electric latch retraction exit devices, electric strikes, and other electric locking system without adding an extra power supply. A time delay function is also built into the control system eliminating the need for supplemental relays or controls.
It provides hands-free, low-power point of entry door control to help meet all US and Canadian ADA requirements for door installations in retail storefronts,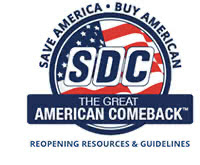 office buildings, campuses and healthcare facilities. The state-of-the-art microprocessor-based unit is self-tuning and self-learning while offering non-handed operation, full mechanical stops and a variety of interface options for sensors, push-plates, fire alarms and electrified locks.

OPERATORS
AUTOS
One Drive Unit, Single Door Operation
---
AUTOP
Two Drive Units, Pair of Doors Operation
---
OPERATOR ACCESSORIES

AUTO-IR
Door-Mounted Presence Sensor & Door Re-Activator
---

AUTO-KS
Single Gang Key Lock Switch
---

AUTO-KSN
Narrow Key Lock Switch
---

AUTO-RKR
Narrow Rocker Switch
---

AUTO-PROG
Handheld Programmer Module
---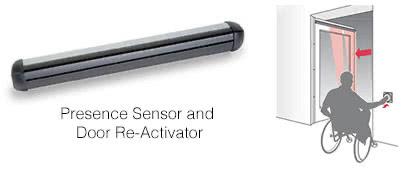 u Features
Auto EntryControl's™ non-pivot drive and combination of belt, gear and pulley requires less torque, requires less power, absorbs more abuse, and is quieter than other automatic door openers while complying with all US and Canadian ADA requirements. On-board diagnostics simplifies troubleshooting for ease of installation and all Auto EntryControl's™ can be easily configured for surface mounted push/pull or overhead concealed applications.
ADA Compliant
Meets ANSI A156.19
Certifed for use as fire door operators (3 hour rating)
Self-Tuning, Self-Learning
Minimum 5 seconds from close to open
Stays open for 5 seconds

Force: 15 lbs -6.8 kg

Push or Pull (In door, Out swing)

Activation: Knowing Act

Optional Safety Device

Power: 1A, 100W

Non-Handed

Extremely Quiet Operation