IPD Series
IP-Based Controllers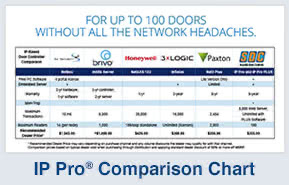 SDC's IPPro® IP-based Single Door Access Controllers – now available with Free PLUS PC Client Software - allow expansion from one Standalone door up to a 100-door "Grid." Configure and manage every door from a single interface that grows with you and eliminates the headaches of costlier, more complicated enterprise solutions. Every IPPro® Controller comes with secure, built-in software to manage up to 32 doors from any standard web browser to allow for real-time monitoring, user management and audit trail up to 5,000 events.
---
IPPro®
Single Door IP Controller expandable up to 32 doors
---
Single Door IP Controller expandable up to 32 doors

Powered by ordinary Ethernet network cables

Secure, built-in browser-based software, no software to install

Manage from any PC and standard web browser

Connects to existing network infrastructure
Compatible with standard Weigand readers
---
IPPro® PLUS
Download our FREE PLUS PC-Client software to control up to 100 doors from a single PC. IPProTM PLUS is a role-based access control software suite with different interface modules.
---
PLUS Hardware - used by the installer to set up controllers, doors and user profiles

PLUS Manage - used by system administrators to facilitate database changes required on a day-to-day basis, and offers various reporting tools.

PLUS Server - used by system administrators to perform specialized tasks, such as database backups, firmware updates, importing/exporting users

Live System events can be monitored from either module