WPT Series
Wireless Power Transfer Devices
The WPT uses a radio frequency (RF) transmitter to send energy wirelessly across the door gap to a RF receiver that converts the energy to DC voltage - to power electrified locks and latches. Retrofitting electrified locks into openings with existing wood doors is simpler and less time consuming – core drilling the door is not required. Works well with steel doors, too.
Plus, unlike competitive wireless power transfer devices that use magnetic induction for the power transfer, the WPT's RF technology* also allows for transfer of latchbolt monitoring, REX or data signals.
WPT Wireless Power Transfer Device
---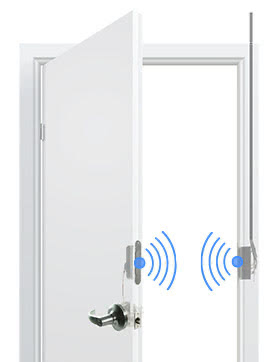 u Features
The WPT eliminates unsightly, exposed wires across the door gap that are susceptible to vandalism or breakage thru use and includes a timed trigger to allow for up to 90 seconds of sustained voltage, if required. The WPT transfers power wirelessly across door gaps up to 7mm (a little over 1/4"), and provides more tolerance in lining up the transmitter and receiver vertically and horizontally than inductive power transfer devices.
No door core drilling required

Transfer of latchbolt monitoring, REX or data signals

No more broken wires, no moving parts

Dual voltage output 12VDC or 24VDC field selectable

For failsecure electrified locks, latches or other door hardware requiring up to 600mA @ 12VDC or 300mA @ 24VDC
For intermittent duty, but can provide up to 90 seconds of sustained voltage

Flexible installation - can be mounted on top of frame, latch side or hinge side with up to 1/4" door gap

UL 1034 and UL 10C 3-hrs fire-rated, FCC Part 15 Compliant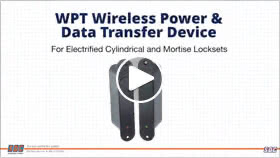 WPT Video
---
Perfect for powering, monitoring, controlling or communicating with electrified cylindrical or mortise locksets.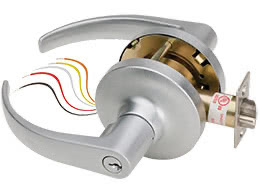 Electra™ Pro 7252 Series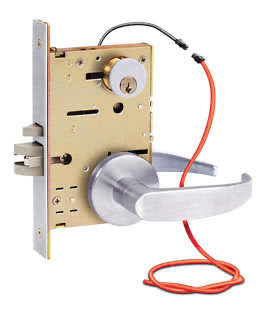 Selectric® Pro 7852/7882 Series
---
---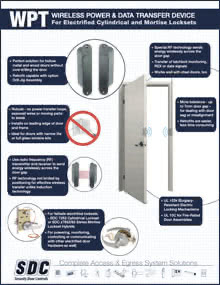 WPT Features & Benefits