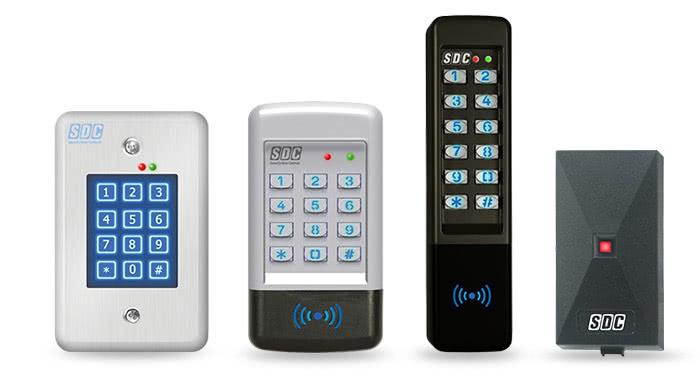 Digital Readers & Keypads
SDC has a variety of standalone digital keypad and proximity card access control systems equipment to meet virtually any need – many now available with industry standard Wiegand 26 bit data transfer.
It's one thing to design and manufacture Locking Devices for door access and egress control, it's another thing to tie them all together with Physical Access Control components and systems to both protect people and assets while ensuring code compliance. SDC's digital and card access control systems are engineered to provide real-world door control of a single opening up to 100 doors, from indoor and stand-alone applications, to outdoor and PC-based systems. All while ensuring fire and life safety code compliance along with superior expandability and flexibility in authorization identification, authentication, access approval, and accountability of entities through login credentials - including passwords and personal identification numbers (PINs).
APPLICATIONS
Commercial Buildings
Technology Centers
Warehouses
Industrial Facilities
Technology Centers
Convention Centers
Long Term Living Facilities
APPLICATIONS
Commercial Buildings
Technology Centers
Warehouses
Industrial Facilities
Technology Centers
Convention Centers
Long Term Living Facilities
APPLICATIONS
Commercial Buildings
Technology Centers
Warehouses
Industrial Facilities
Technology Centers
Convention Centers
Long Term Living Facilities