HYBRID POWER PIONEER


1 – 6 AMP ACCESS CONTROL POWER SUPPLIES
In 1994 SDC introduced the 602 power controller – the first hybrid supply to combine the efficiency (low heat generation) of switching power supplies and the rugged inductive load handling capability of linear power supplies to meet the unique needs of access control locking devices.
Unlike camera system power requirements, access control systems draw more current for locking hardware and during access control-related events. As the industry transitions from solenoid-based electric locking devices to motorized devices, demand for specific power supply requirements has also increased.
SDC's 12/24VDC class 2 hybrid power supplies have been designed specifically to meet these needs and reduce power system issues with extra filtering, heavy-duty circuitry for inductive loads and multi-door applications, and an isolated battery charging circuit to protect locking devices and components from over voltage while the batteries are charging. With the addition of SDC programmable controllers or relay modules, the user-friendly modular designs ensure versatility, interface capability and easy installation of virtually any electric locking devices, access controls and related fire life safety equipment.
Switching vs. Linear vs. Hybrid Power Supplies
Switching power supplies are typically designed for use with resistive or capacitive loads such as low voltage lamps, alarm panels, cameras and signaling devices. They are lighter in weight, efficient (less heat generated) and are cheaper to manufacture. The low price of switching power supplies often encourages its misapplication. Switching power supplies are not recommended for use with access controls and electric locks for several reasons. Typical switching power supplies have trouble handing the inductive loads produced by locking devices with coils or solenoids due to the limited current reserve available to handle periods of high inrush. Excessive current draw (even for a short period of time) will briefly stop a switching supply from operating and may even permanently damage it.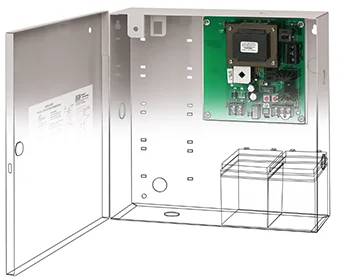 Linear power supplies have been used for years for powering resistive, capacitive and inductive loads (devices with coils or solenoids, such as electromechanical and electromagnetic locks and strikes) due to their ability to handle large inrush currents. Since most of the DC filtering is done with large filter capacitors, there is plenty of reserve power and they can provide extra current for short periods of time without malfunction or damage. The output is also free of high frequency noise found in switching power supplies making them practical for use with access controls. However, the penalty in using a linear power supply is the heat generated by the regulator component of the supply due to its moderate efficiency. The heat generated can lead to early failure of the temperature sensitive components housed near to the supply board.
Hybrid access control power supplies (like SDC's) are ideal for powering resistive, capacitive and inductive loads. They combine the efficiency (low heat generation) of a switching supply and the rugged inductive load capability of a linear power supply. Extra filtering is added to the output stage to provide clean noise free power for access controls and enough current reserve is available to reliably power inductive loads. Built-in inductive kickback protection enables high inrush protection caused by electric lock solenoids and motors. This type of power supply is a good overall choice for powering all access control system components.
The Importance of Proper Power for Motorized Products
Over the last several years, there has been an industry shift in the electrification of panic bar devices, particularly in the area of electric latch retraction. The major brands are finally moving away from solenoid driven devices and are focusing on new, motor-driven latch retraction solutions. SDC has been a step ahead designing motorized ELR kits for over a decade. The use of a motorized device provides several advantages over solenoids including:
Lower current draw – allowing for longer wire runs and more energy efficient operation
Quieter operation
Proven superior durability over time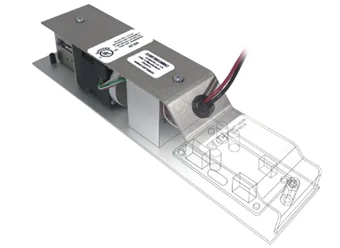 The use of motorized devices also demands specific power supply requirements. Common among all motorized ELR manufacturers is the need for a linear, regulated and filtered power supply. Most manufacturers will recommend a specific power supply model which has been designed for and thoroughly cycle tested with their motorized ELR device.
There are several well-known major brands of access control power supplies. Although most of these power supplies are regulated and electronically filtered, some are classified as switching power supplies, rather than linear. These switching supplies may be less expensive to manufacture and are suitable for some access control applications. However, they are not suited for use with high inrush inductive loads due to their poor transient response. Additionally, the output DC voltage on these power supplies /is factory adjusted above the recommended voltage range for motorized ELR devices. They do this to provide ample power to charge backup batteries. To combat this issue, SDC power supplies utilize an isolated battery charging circuit to protect locking devices and components from over voltage while the batteries are charging. It is best practice to always test voltage before powering motorized ELR devices because over voltage may cause damage or performance issues.
75-85% of access control operating problems and technical support calls are due to power issues. To learn more about avoiding access control power problems, download our "Access Control Power" brochure.
1 – 6 AMP ACCESS CONTROL POWER SUPPLIES
POPULAR CONFIGURATIONS
602RF - 1 Amp DC Hybrid Power, Cabinet
632RF - 2 Amp DC Hybrid Power, Cabinet
631RF - 1.5 Amp DC Hybrid Power, Cabinet
602RFXKL - 1 Amp DC Hybrid Power, Cabinet, Key Lock Cover
634RF - 4 Amp DC Hybrid Power, Cabinet
602RF-220 - 1 Amp DC Hybrid Power, Cabinet, 230VAC, 50/60Hz
631RFA - 1.5 Amp DC Hybrid Power, Large Cabinet
602RFXPCXUR-1X12VR - 1 Amp DC Hybrid Power, Cabinet, 6' Power Cord, Microprocessor Door Controller, Voltage Control Regulator
602RFL - 1 Amp DC Hybrid Power, Less Cabinet 631RFXUR-1 - 1.5 Amp DC Hybrid Power, Cabinet, Microprocessor Door Controller