May the force
be with you


BACK TO BASICS: ELECTROMAGNETIC LOCKS
In 1983, SDC's EMLock® design became the standard in electromagnetic locking innovation. EMLocks were the first electromagnetic lock to feature an interlocking quick mount assembly with captive mounting screws to simplify installations. With a second-to-none complimentary offering of mounting brackets, kits and hardware, EMLocks can meet virtually any application. It is no wonder "EMLock" is used synonymously for premium electromagnetic locks throughout the industry today.
Over the years, SDC's electromagnetic product offering has expanded to meet narrow header, sliding door, gate, cabinet and hazardous applications.
Electromagnetic Locks
SDC's electromagnetic locks are suited for interior doors, perimeter exit doors and entrances that require failsafe emergency release capability. Our patented EMLock® design represents the pinnacle of magnetic lock evolution with modular assembly that makes them easy to stock, install, upgrade, and maintain. The interlocking EZ mount assembly with capture mounting screws leaves hands free for wiring and securing of mounting screws.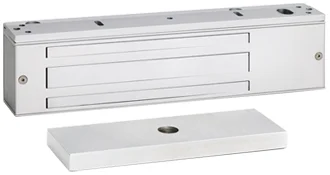 EMLock® Premium Line
SDC launched its first electromagnetic lock offering as EMLocks®. Later, after multiple improvements, patents, and an extensive complimentary line of mounting hardware, EMLocks® become the established industry name for

premium electromagnetic locks.
Excel™ Value Line
The Excel™ product line is designed for system integrators, distributors, installers and building owners presently using low cost import or private label brand access control hardware. Value priced Excel™ locks are economically priced,

fully featured alternative to low-cost imports – providing quality and flexibility for commercial applications.

POPULAR CONFIGURATIONS
1511V - Single EMLock, 1650lbs, 628
1571V - Single EMLock, 1200lbs, 628
350V - Narrow Single Magnetic Lock, 1200lbs, 628, DPS, BAS, LED
E1200 - Value Single Magnetic Lock, 1200lbs, 628, DPS, BAS, LED
1576U - Gate Single Magnetic Lock, Face-Drilled, 1200lbs, Weatherized, 630, DPS, BAS
1581V - Single EMLock, 650lbs, 628