BOLT LOCK
INNOVATION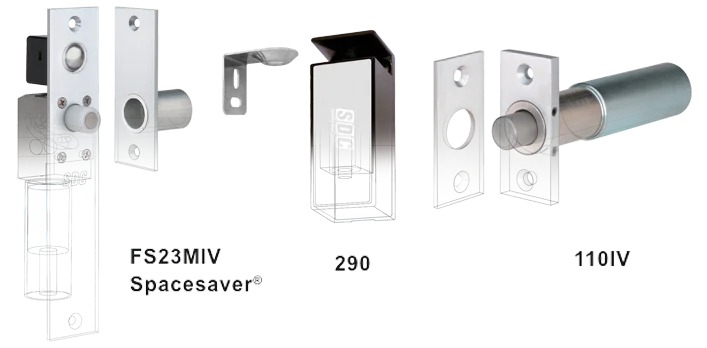 BACK TO BASICS: ELECTRIC BOLT LOCKS
Before SDC invented and filed the patent for the Spacesaver® bolt lock design in 1975, installation of electric bolt locks was costly, often requiring the cutting of studs and considerable reconstruction of door frames. The Spacesaver® bolt lock design projects the bolt at a 90° right angle to the lock mechanism and is a fundamental access control innovation now used worldwide.
The Spacesaver® FS23M series is still the only dual-failsafe electric bolt lock in the industry. Conventional failsafe locking bolts rely solely on a spring to retract the bolt while the FS23M bolt will unlock with our without assistance of the spring. These are the only electric bolt locks listed by the California State Fire Marshal for locking of perimenter entrance and emergency exit doors after hours.
Since 1972 SDC products have been designed, engineered and built in America to provide quality products that are readily available while most of our larger competitors manufacture overseas.
Electric Bolt Locks
Today, our comprehensive line of bolt locks use the same practical, yet pioneering approach to meeting access control requirements for safety, security and code compliance. They include long life, solenoid driven, direct throw mortise bolts, Spacesaver® right angle bolts for narrow frames and door stiles, and surface mounted bolt locks for door and cabinet applications. Compatible with virtually any access control system, electromechanical bolt locks are available in failsafe and failsecure modes. Applications include high security interior doors and cabinets where electromagnetic locks are not required.
Spacesaver®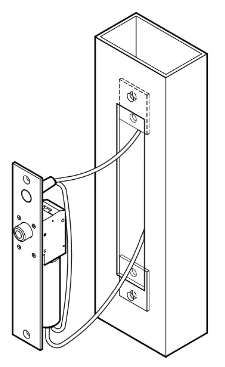 Spacesaver® bolt locks were the world's first right angle electric bolt locks. They install in any standard frame and most door stiles with a simple mortise cutout and feature a specification grade solenoid. The rotating bolt design makes tampering or cutting very difficult. An automatic relock ball switch keeps the bolt retracted when the door is open and they are field adjustable for wide door gaps and bidirectional for use on swinging or sliding doors. Spacesaver bolt locks are available in a variety of model series for standard,

heavy duty, narrow and dual-failsafe applications.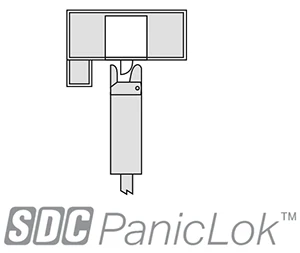 PanicLok™
PanicLok™ top latch release electric bolt locks are concealed and permit access control and remote timer control of narrow stile glass doors equipped with Dor-O-Matic or Kawneer concealed vertical rod exit devices. They're adaptable to single or pairs of center hung doors and offset doors with a minimum of 1/8" reveal only.
GateLok™
GateLok™ electric bolt locks are specifically designed for access control and remote locking/unlocking of swinging or sliding gates. Compatible with manual, automatic chain link, tubular steel and wrought iron gates, GateLoks™ feature an automatic relock switch to keep the bolt retracted when gate is open.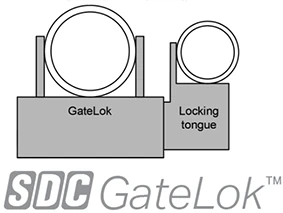 POPULAR CONFIGURATIONS
110IV - Direct Throw Mortise Bolt Lock, Failsafe, 628
1091AIV - Right Angle Bolt Lock, Failsafe, 628
210HV - Direct Throw Mortise Bolt Lock, Failsecure, 628
290 - Micro Cabinet Bolt Lock
FS23MIV - Right Angle Bolt Lock, Dual Failsafe, 628
280AHV - Direct Throw Surface Mount Bolt Lock, Failsecure, 628