Announcing Re-Opening of SDC Factory as an Essential Organization Effective April 1, 2020.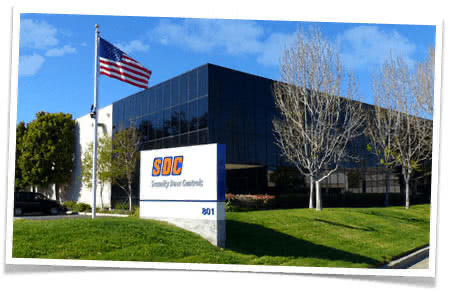 Located in Camarillo, California, SDC is qualified to re-open as a critical infrastructure manufacturer under the essential organization criteria.
SDC supplies life safety and security products to distributors and contractors serving the U.S. Department of Defense (DOD). These channels perform projects deemed by the U.S. Department of Defense to be mission critical and essential. Therefore, SDC is engaged in the critical infrastructure sector of the essential organization guidelines listed by the Department of Homeland Security. In addition, SDC product solutions are utilized in critical infrastructure applications for transportation and healthcare facilities nationwide.
SDC priority is the health and safety of our workforce. SDC management has re-configured production assembly process and all workstations to the recommended social distancing requirements.  New policies and instruction has been provided for operational distancing awareness to ensure effectiveness, including monitoring and enforcement of compliance as per the CDC and government guidelines.
In addition, SDC has contracted a specialized daily cleaning service to perform workstation cleaning with hospital grade disinfectant.
All lead times will be temporarily extended as we adapt to the new environment. Expedited shipments are not available until further notice. However, best effort is being made to process orders, build, and ship orders in a reasonable time period. To ensure the safety of our employees, we have implemented a two shift format with extended hours to limit capacity in the production area and offices. Many administrative roles remain active remotely.
Please do not hesitate to call, chat or email us should you have any questions regarding the re-opening of our operations. 
---
The guidelines under which we are operating are the following:
Our employees qualify as essential critical infrastructure workers under California Executive Order N-33-20 and are needed to maintain continuity of our operations and may continue their work under such Order;
See: https://covid19.ca.gov/img/
EssentialCriticalInfrastructureWorkers.pdf
https://covid19.ca.gov/img/
Executive-Order-N-33-20.pdf
We are a critical manufacturing business performing activities for local, state and federal facilities specific to products that support life safety and security. Our SDC employees may leave their residence to perform work under the Stay Well at Home Order issued by Ventura County Health Officer dated March 20, 2020 (See section7(c) of such Order.
CRITICAL MANUFACTURING – Department of Homeland Security
https://www.cisa.gov/publication/
guidance-essential-critical-infrastructure-workforce
Workers who produce or manufacture parts or equipment that supports continued operations for any essential services and increase in remote workforce (including computing and communication devices, semiconductors, and equipment such as security tools for Security Operations Centers (SOCs) or datacenters).
---
Purchase Orders:
We are now actively processing all orders, however lead times/estimated ship dates will be extended until we resume normal business operations.
Due to limited capacity during COVID-19 operations, we cannot expedite orders. SDC will ship partials unless otherwise noted.
System will send your normal acknowledgements and invoice, however the acknowledgements may be delayed.
 RMA Requests:
We do have the capabilities to receive and issue new authorized RMAs.
RMAs require authorization from one of our Customer Support Representatives: 800-413-8783, service@sdcsecurity.com
Mark the RMA Reference number assigned by one of our Customer Support Reps on the outside of the box.
Include a printout of the RMA Authorization received from one of our Customer Support Reps in the box.
 Receiving:
We do have all receiving capabilities.
We appreciate your patience.