NEW PRODUCTS 4th Quarter 2019 -
---
Long Term Care Solutions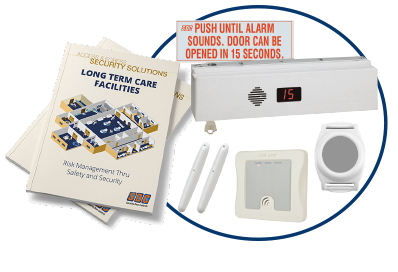 Reliable Elopement Solution for Patient Wandering in LTC Facilities
SDC's new LTC Facilities brochure offers a solution for controlled enviroments that allow patient activity within the unit and the ability to alert the facility of attempts at elopment by a wandering patient.
Wander Management Touchpad Controller & Receiver
Code Watch Transmitters & Adjustable Wrist Bands
1511S Delayed Egress Magnetic Lock or Exit Device
---
ADA 480 Push Plate Switches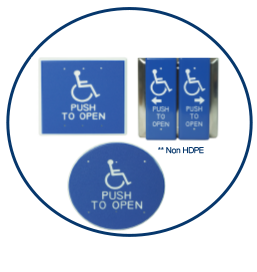 New 480 Push Plate Switches for Handicap Access, Automatic Door Activation, and Request-to-Exit Applications now come in High Density Polyethylene (HDPE) for cleanliness and durability.

Double Switch Vestibule models for Entries and Lobbies are now available too.
---
Auto Operator Programming Guide
Optional Handheld Programmer for the Auto EntryControl™ Low Energy Operator.
Allowing for custom configuration and adjustment of:
All inputs & outputs
Opening/closing motion settings (e.g., speed, strength, backcheck)
Most timers (e.g., push&go pause time, strike relay delay)
Advanced interlock/sequencing capabilities
---
LR100 Kawneer Electrification Kit
LR100KWK-EM - For rim mount Model 1786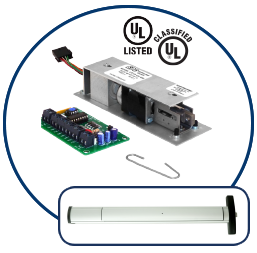 Motorized Electric Latch Retraction & Dogging for Fire Rated & Non Fire Rated Device
Retrofits Kawneer Exit Device Brands Without Removing Device From the Door
1amp Inrush, 200 mA Continous @ 24 VDC
Original Kawneer 36" Device, NOT Field Modified
---
NEW Products - 1st Quarter 2019
---
NEW Products - 2nd Quarter 2018
---
NEW Products - Additions 2017-2018
---
NEW Products - 4th Quarter 2017